Welcome to The ABBEY MEDICINES
MODERN PHARMACEUTICAL CARE, CENTURIES OF EXPERIENCE
With over 230 years supplying medicines we have a lot of experience under our belt and can promise a safe, reliable, and expert service. You can read about some of the plant-based medicines that pharmacist of the past would have supplied at the bottom of this page. Things have moved on however and we provide medicines in all of the ways you are used to today. Over the counter, self-selection, electronic NHS prescriptions and private prescriptions. With a smile and professional advice you can rely on The ABBEY PHARMACY.
The NHS Electronic Prescription Service (EPS) allows your doctor to send your prescriptions directly to The ABBEY PHARMACY. You can set up repeat prescriptions, meaning you don't need to keep going to your GP for paper repeat prescriptions. Simply choose The ABBEY PHARMACY as the pharmacy you want your prescriptions sent to by asking us to be set as your nomination.
While our history is long our future is where we place our care. You can order your NHS repeat prescriptions from The ABBEY PHARMACY easily and quickly using the HealthEra App on your mobile phone. Follow the instructions below to set up the app and order from The ABBEY PHARMACY. It only takes a couple of minutes and after a couple of goes you'll wish it was always this easy.
Download
Selected your app store, and download the Healthera app for your phone. Set up an account and find The ABBEY PHARMACY.
Your medication
Inside the app, simply complete the information about your repeats and NHS GP you are registered with to manage online.
Order
Confirm your repeat prescription order in the app, and we will receive the prescription from your GP and prepare it for you.
Alert
We will let you know via the app when your prescription is ready, with FREE delivery for over 65s and vulnerable patients.
additional MEDICINES SERVICES
– We also offer a range of services to help you manage how your medicines fit into your life and get the best out of them –
For medicines that are available to purchase we offer a wide range of traditional over the counter medicines that you can buy from our pharmacy along with the advice you need to use them well.
As the professional medicines experts our pharmacist team are perfectly placed to provide you with up to date, reliable advice and care. Don't rely on information on the internet that you can't verify, ask your pharmacist and we will help.
Where you are unable to get to us we can help by coming to you. We offer a prescription delivery service within Sherborne and the surrounding area.
If you have a number of medicines and struggle to manage them you may benefit from a medicine tray. The medicines are laid out by day and the time of day they should be taken. Easy to see where you are up to and remember what you have taken. If you or someone you care for might benefit from a medicines tray pop in or give us a call to discuss.
NHS NEW MEDICINES SERVICE
Starting a new medicine can be a little daunting. This service is designed to help you adapt to your new medicine with the support of our pharmacist over several weeks. Ask for more information about the particular medicines and conditions covered by the service.
Similar to the NHS New medicines service this service is designed to help those who are starting out using a new medical device. Ask us for details.
Our pharmacist team are busy preparing to provide a pharmacist prescribing service which will enable you to access a range of prescription only medicines without the need to visit your GP and without an NHS prescription. Providing the highest standards of care supply will be based on the professional assessment and judgement of the pharmacist and will be a private, paid service.
We can supply medicines prescribed by your doctor on private prescriptions and offer competitive pricing alongside reliable advice and guidance.
Please free to contact our team at The ABBEY PHARMACY if you have questions regarding the services above. We'll be glad to help and guide.
Traditional Medical Botanicals
The modern medicines we supply today are all evidence based, licensed, manufactured according to international standards and are checked by our qualified, experienced pharmacists. It's important to be confident that your medicines are from reliable sources.
– Please note that the details below are for informational purposes only. Please do not source or use medicinal remedies without expert advice.  –
Campanula Rapunculoides
The leaves were brewed into a tea for treating coughs and tuberculosis (consumption). An infusion of the crushed roots was used for treating pertussis (whooping cough). No longer in use.
Prunus Spinosa
The flowers, bark, leaves and fruits brewed infusions used in the treatment of diarrhoea (especially for children), bladder, kidney issues & stomach weakness. No longer in use.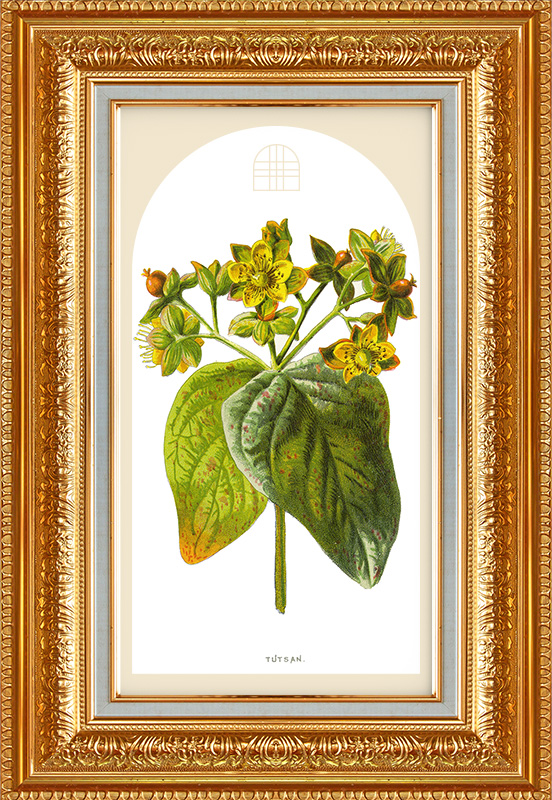 Hypericum Perforatum
St. John's wort has a long history of herbal use. It fell out of favour in the nineteenth century but recent research has brought it back to prominence as a remedy for mild depression.